 Since the days of the impressionists, artists have enjoyed the experience of painting outdoors. It is one of the true joys of being a painter.
Not only are we at one with nature, but there is also the camaraderie when two or more paint on location.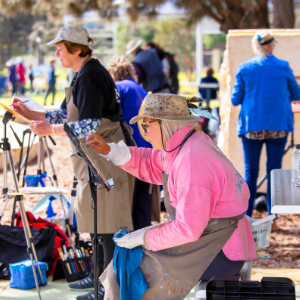 Plein Air Down Under provides a unique opportunity for artists, spectators and collectors to participate in Western Australia's largest outdoor painting festival.
Focussing on outdoor and evening paint-outs, over $12,000 in awards and prizes, workshops, youth involvement, Lotterywest Demo Zone and two art exhibitions. Internationally renowned artists Leon Holmes (Aus), Amit Kapoor (India), Matt Ryder (UAE), and Amanda Brett (NZ) will be painting and demonstrating throughout the festival.
Over 200 artists will be painting throughout Mandurah's town centre, cultural precinct, and the historic town of Pinjarra. When the artists aren't on site painting, the Mandurah Performing Arts Centre serves as the festival hub, offering artists and spectators the opportunity to watch free demonstrations, listen to live music and enjoy the festivities.
Highlights of the 2023 festival will include:
Workshops and Masterclasses
Lotterywest Demo Zone
Spirit of the Landscape Art Exhibition
Artist registration open to professional, non-professional and youth artists
Over $9000 in awards and prizes
Day and evening paint-outs
A two-hour Quick Draw painting competition
Opportunities to exhibit, sell and buy original artwork.
Postal Address
P.O Box 788
30-32 Pinjarra Road
Mandurah, WA
Australia, 6210