 Since the days of the impressionists, artists have enjoyed the experience of painting outdoors. It is one of the true joys of being a painter.
Not only are we at one with nature, but there is also the camaraderie when two or more paint on location.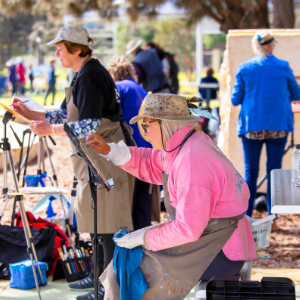 PLEIN AIR DOWN UNDER INVITES LOCAL, NATIONAL AND INTERNATIONAL ARTISTS TO JOIN IN THE FUN OF WESTERN AUSTRALIA'S LARGEST OUTDOOR PAINTING FESTIVAL.
The 2023 festival dates of 19 – 26 September have been extended to include Masterclasses, Workshops and Experience Peel Paint Outs – all designed to celebrate the art of painting outdoors.  The festival weekend of 23-25 September comes to life around Mandurah's town centre, cultural precinct and the historic town of Pinjarra.
Focussing on outdoor and evening paint-outs, the event presents feature artists, over $8,000 in awards and prizes, workshops, youth involvement, demonstrations and an exhibition of plein air paintings.
Your Artist Registration includes:
Access to paint at all paint outs from 19 – 26 September, including the festival weekend of 23-25 September
Eligibility for awards and prize money, over $8,000.
Exhibition and selling opportunities in the Mandurah Performing Arts Centre.
Registration for the two hour Quick Draw Painting Competition.
The option of participating in pre-festival Masterclasses (separate registration fee).
Postal Address
P.O Box 788
30-32 Pinjarra Road
Mandurah, WA
Australia, 6210