SPONSORSHIP OPPORTUNITIES FOR 2023
Enriching lives, advancing arts and our community
Plein Air painting is the largest movement in art history … and growing. Nothing in the history of art has ever seen a movement this large, a movement that has become a lifestyle – whether amateurs, hobbyists, or professionals, thousands of artists are living the lifestyle of outdoor painting.
Become a Sponsor and enjoy the rewards…
Being a sponsor of Plein Air Down Under can be so much more than supporting the arts in Western Australia. Your support allows us to make the arts accessible for all, bringing together artists of all skill levels and ages – younger and older – providing rich experiences for the community at large.
Connecting with your audience
As a sponsor, your support is a way to connect with festival goers – artists, those interested in art and the wider community – while strengthening your business brand.
Plein Air Down Under 2023 offers Sponsorship Packages that can be customised to address your budget and business priorities – from marketing and branding to entertainment, community engagement and employee engagement.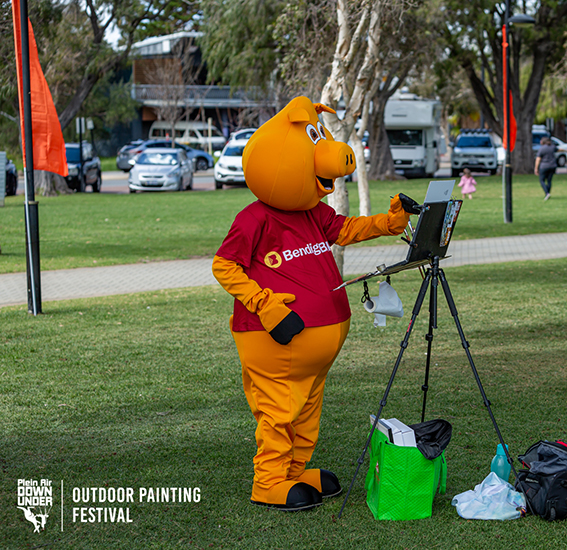 Our 2023 Sponsorship Program opportunities are outlined below.
Partnership Benefits
Platinum
$5000+

Gold
$1500 – $4999

Silver
$500 – $1499

Bronze
$200 – $499

Bespoke sponsorship package created to suit the specific needs of each individual Partner
  
Presentation rights to Major Awards
  
Presentation rights to Awards $500 value and above
  
 
 
Opportunity to present an art activity during the festival weekend
  
Acknowledgement for minor Awards under $500
 
 
Company sponsorship acknowledgment at Awards event
    
 
 
Full page advertisement in the Festival program
  
Half page advertisement in the Festival program
 
Company logo on printed collateral: flyers, posters & signs
   
 
Company logo on Festival program & Festival Sponsorship sign
  
 
  
 
Company banner (sponsors own) displayed during Festival
  
 
Company 'statement' on www.pleinairdownunder.com including:
Company name, description, website and social media links

  
  
Company logo on www.pleinairdownunder.com & website link
  
 
   
Acknowledgement on Plein Air Down Under Facebook page
  
 
Company access to Festival photography
  
 
 
Company promotion material at Artist Registration desk
  
 
  
Invitation to Awards Event and Festival
  
 
   
 
Festival weekend participation for employees (if desired)
  
 
   
Product sampling/ display on site during the Festival weekend
  
 
Not-for-Profit
Plein Air Down Under is facilitated by the Mandurah Plein Air Artists Inc., a not-for-profit community arts organisation that develops and supports community led grass roots events and programs, donations to which may be tax-deductible.